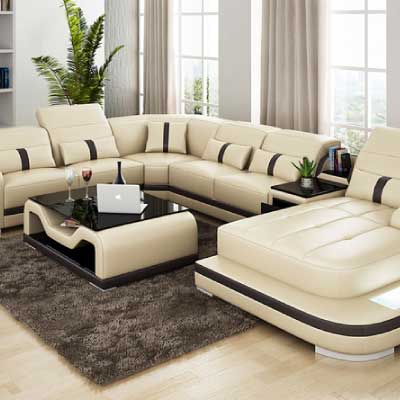 A living room isn't complete without a luxurious sofa as the focal point of the space. There's nothing better than kicking back with the family on the couch after a hard day at the office. Sai Furniture Art provided the best Luxury Sofa Sets in Delhi that meet all of the requirements. Your contemporary living room can look and feel completely new with the addition of one of these sofa sets.
Add A Touch of Luxury and Elegance
Our company is ranked among the leading Modern Luxury Sofa Sets Manufacturers in Delhi. The appearance of a living space can be improved in a number of different ways by the addition of a luxury sofa set:
Excellence in Both Quality & Craftsmanship
The high-quality materials and skilled craftsmanship that go into making luxury sofa sets are well-known characteristics of these products. A living space can be given a level of sophistication and elegance by paying careful attention to detail and making use of high-quality materials.
The Design of Luxury Sofa Sets
Luxury sofa sets often have unique and stylish designs that can add a touch of glamour and luxury to a living area. The designs can range from traditional to contemporary, depending on your personal taste.
Combination of Style and Comfort
Luxury sofa sets are designed with comfort in mind. They often have plush cushions and a soft, inviting feel that makes them perfect for lounging and relaxation.
Durability and Versatility
Luxury sofa sets are built to last and are often made with high-quality materials that can withstand regular use. This means they will look good and last longer which will enhance the overall look and feel of the living area.
Luxury sofa sets are high-end furniture pieces that are designed to provide both comfort and style. They are typically made with premium materials such as leather, velvet, silk, and wool, and are crafted with attention to detail and high-quality craftsmanship. We are the chief Luxury Sofa Sets Suppliers in India. Overall, luxury sofa sets are designed to provide both comfort and style and are a great investment for any home. They offer the perfect blend of form and function and are built to last for many years.